4th ANNUAL ALUMNI DINNER


On August 19th, 2017, the Sovereign Hall at Le Meridien in New Delhi, came alive with the ELSA celebrations. The much-awaited Annual Dinner began with the President of the Association, Rashmi Misra giving thanks to Mrs. Charanjit Singh, Chairperson, Hotel Le Meridien and her entire staff for making it the most memorable evening with their impeccable hospitality and to our sponsors, Sheroes, Talentedge, DPS Gurgaon, Jaypore.com and Havas Media. We also thank Shri Arun Bharat Ram, the Chairman, Dr. Meenakshi Gopinath and Dr. Suman Sharma, ELSA mentors, for their continued guidance and direction.

The EC also thanked the ELSA members for actively participating in the Association and turning it into one of the strongest Alumni Associations the country with a powerful network of women across the world.

The ELSA Connect app powered by Talentedge was launched much to the pleasure of the members as it will further evolve the mentoring and knowledge sharing in ELSA professional networks. This is in addition to, the repertoire of wisdom and knowledge of the existing ELSA network which ELSAs regularly tap into – the ELSA HUB, Afterwork Network, TRAVELSA, Conversations and Book Clubs.

In the 'Quiz Hour', the Alumni was quizzed on their Alma Mater. Alumni had clearly not forgotten their roots. For their quick and correct answers, they received ELSA hampers brimming with gifts from Shahnaz Husain and Skinn from Titan.

Dressed in the VIBGYOR theme, ELSAs dazzled in the colours of their decade, grooving their way to the stage to the most popular songs of their time. There is no better way to bond than through music. Then, came the gastronomical Dream Menu, especially curated by the Chefs of Le Meriden.

The 'Special Selfie Corner' a beautiful trellis made of intertwining white and gold branches was symbolic of the Gold Standard that the LSR college has come to be known for. Under this glorious arbor, were captured many pictures that will be treasured forever by each and every ELSA.

The ELSA Souvenir was gifted to each ELSA by the Association as a keepsake to cherish and jot down her memories in.

ELSA Annual Dinners are an opportunity to reunite with friends and forge new friendships, but are also a reminder to reclaim the grander vision each ELSA envisioned of herself in her days at LSR.

The ELSA Alumni Association is growing steadily, and is, today, an even more invested, stronger, and committed to the ONE ELSA MOVEMENT.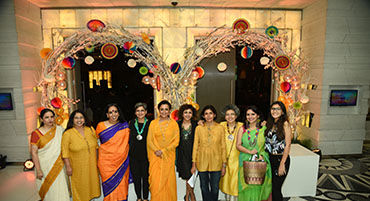 Gallery Annual Dinner 2017
Gallery Annual Dinner 2017
Elsa Annual Dinner 2016