Elsa Post — 20th January 2018
News ~ Updates ~ Events ~ Conversations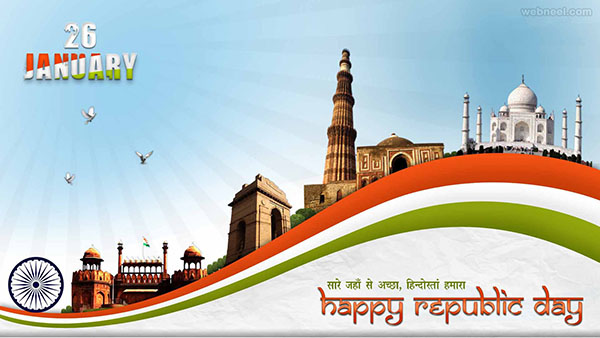 ELSA Talks 3rd edition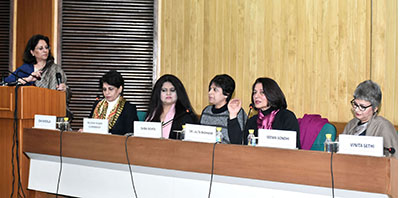 Elsa Talks (3rd edition) held on Jan 10, 2018 at IHC, set the tone for 'women and wellness' with an eminent panel that reinforced the message "Say Yes to Health!" The message was loud and clear- women have to focus on their health while juggling all the different roles they play in life.

Seema Sondhi, wellness expert and founder of The Yoga Studio spoke of ways in which the practice of yoga and meditation can alleviate issues that women face in 4 stages of life including puberty when its time for awakening, coming into fullness (30-40 years), speaking the truth (40-50 yrs) that involves accepting oneself, and stage 4 when wisdom from the heart flows (+60 onwards) which is also the state of spirituality and learning to enjoy life. To Seema, "it all comes down to loving yourself and yoga helps in understanding this."

Dr. Lalita Badhwar, senior gynecologist & obstetrician , focused on issues of endometriosis (period-pain), poly-cystic ovaries and menopause, and urged women not to push these issues on a back-burner. Timely action can go along way in disease management, and to her, "every age is good to make a beginning." She asked us to forget what the airplanes say.. we need to put on our oxygen masks first, then help others.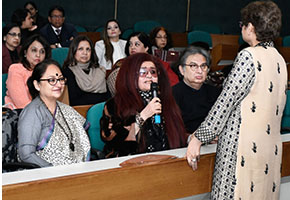 Nelofar Currimbhoy, President of Shahnaz Herbals, talked about beauty being not just how you look but more who you are. She suggested working out a good routine to look and feel good throughout the day. Her message was to 'go back to yourself'- since you can only be the best version of yourself. Some advice by Nelofar- At 25, start looking after yourself and remember to moisturise; and by 35 learn to metabolise, and love and accept yourself.

Ishi Khosla, clinical nutritionist and founder of Whole Foods, while explaining how to get to 'correct' nutrition busted several myths. She said that the message was clear- we need to focus on the 4G's- gut, gluten, girth and glucose. Her advice was to "treat your gut as a second brain."

Shiba Mehra, master trainer Reebok and ACE educator, encouraged woman to regain and maintain their health at all stages of their life. It was fascinating to hear her speak on how to avoid the stumbling blocks as they appear. Her mantra is "Small steps, big changes." Shiba advised the audience to think SMART- to have simple, manageable, attainable, time-bound goals.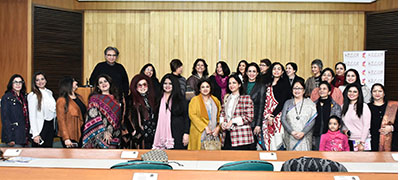 A big thanks to Dr. Angeli Misra, Lifeline Labs, for starting the event with an informative and engaging Health Quiz...yes we have to catch up fast and take charge of our health!. Here's our New Year's ELSA pledge to more wellness and holistic health!

events@lsralumna.org
Webinars India Habitat Centre, New Delhi on 6th & 13th of January, 2018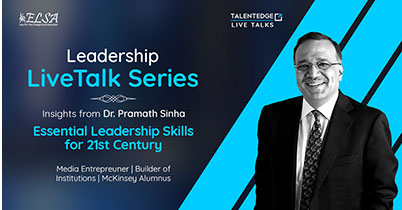 In a joint initiative by ELSA and Talentedge - Online Ed-Tech firm providing specialized course to working professional, a specially curated live talk series was organized that aimed to talk about breaking the stereotype against gender biased leadership and shifting the focus to competency, learning and right attitude.

The Leadership Talk Series provided an open platform, where one got to listen to and interact with top business stalwarts and global leader like Pramath Raj Sinha and Vinita Bali and understand what it takes to become a Great Leader in the 21st century.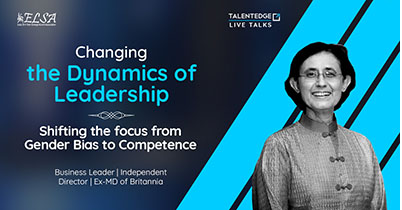 The idea was to focus on the importance of competency and constant learning, that helps one to break through the clutter and make their mark as a Leader.

Through the talks we aimed to challenge the traditional thought process of leadership and educate ourselves with relevant skills and practices to succeed and become a leader of the future.

YouTube links for the sessions are available below:
Pramath Sinha: http://bit.ly/2mtvfWi
Vinita Bali: http://bit.ly/2rfexyU
#ELSaChangemaker- Lakshmi Puri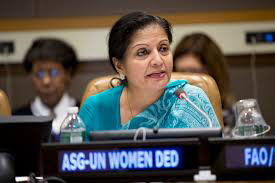 Assistant Secretary-General of the United Nations and Deputy Executive Director of UN Women, Lakshmi Puri received the "Power of One" award at the UN Headquarters in December, 2017. She has contributed strategically and vitally to positioning UN Women as the global advocate for gender equality and women's empowerment. Notably, she played a key role in ensuring that gender equality was prioritized in the 2030 Agenda for Sustainable Development and helped conceptualize and support UN Women's Planet 50–50 by 2030: Step It Up for Gender Equality, HeForShe and the men and boys' solidarity movement for gender equality, and the UNiTE to End Violence against Women campaigns, as well as UN Women's Youth and Gender Equality Strategy and its celebrated LEAPs framework.

info@lsralumna.org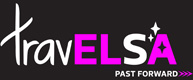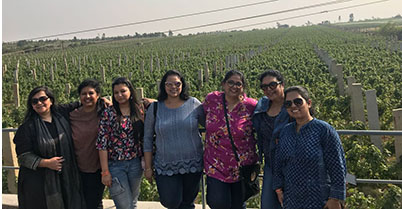 Summer Wine in Winter Time

A perfect day for a winter outing. Aided by google maps , on point this time , 24 ELSA 's and their families made it to the Grover Zampa Vineyards off Bangalore bright and early on Sunday. The drive through vineyards and mango orchards reminded one of a Bangalore which long term residents would remember with nostalgia.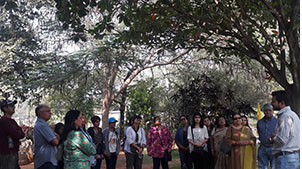 Our guide took us through the stages in wine making. We learnt what ballooning grapes mean. We learnt Rosé is not a mix of red and white wines. We learnt how to store bottles, which need to lie down and what needs to , well, just stand up.




Then came the 5 S's : See, swirl, sniff, sip and savour. A lot of laughter and bonding over the crisp notes of the white and spicy notes of the red.

The ELSA spirit soared and wafted through the oak barrels.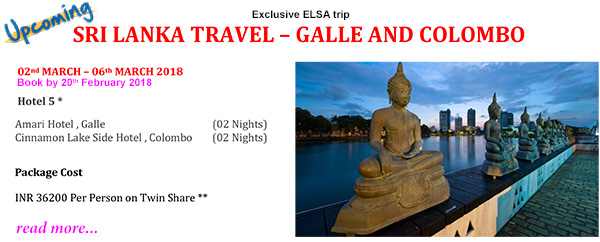 TRAVELSA - LSR alumnae travel hub
ELSA Writers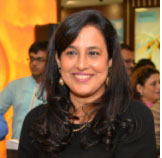 Sunita Wadekar Bhargava is a professor of Journalism at the Xavier Institute of Communication (XIC) in Mumbai, and is also an author and a blogger. She is a prolific journalist and columnist who has worked with BusinessWeek (NYC), Reuters, India Today, Indian Express, Mint and Dataquest. Her first book, "Only Salads", has sold extensively on Amazon and Flipkart. Her blog, 'Fifty Shades of Green', a quirky and tongue-in-cheek take on food from different cities around the world, is highly popular on Times of India online.

Read More: https://blogs.timesofindia.indiatimes.com/fifty-shades-green/
THE ELSA HUB
The ELSA Hub is a rewarding platform to reach out to fellow alumnae and showcase your services. You reach out to the ELSA community and they support you with all their heart.

Don't waste any time now and get headlong into the New Year sales plans. We wish you the best!!!!

While you are strategizing for the year, take out a minute and go on our website www.lsralumna.org Follow the link http://lsralumna.org/elsa-hub.php fill up a short form and write a couple of lines about your product / service offering. Now you are ready to roll ! All the best !!
Upcoming Events
Delhi
Elsa Talks Presents ' In Conversation with Muzzafar Ali ' Renowned Film Maker , Artist and Poet known for his delicate portrayal of strong women in Indian Cinema, 6th Feb - IHC, 6.45 pm.
Bangalore
ELSA TALKS 'BEHAVIOR CHANGE ' moderated by Elsa Vinita Bali,
Sunday 18th Feb 4pm The Oberoi MG Road
Mumbai
ELSA Mumbai has proposed a Heritage Walk for its patrons on Republic Day in association with Khaki Tours. The one hour walk from Tejpal Hall in South Bombay to Mani Bhawan will touch upon some actual sites associated with the Indian freedom movement. Registrations are on till January 21st. Pls contact Gayatri Srivastava for some details on 9920905874.
Elsas meet to discuss its collaborative project The Blue Sky 19th Feb venue TBA
events@lsralumna.org


London

19th Feb 7:15pm at Taj St. James hotel coffee chat session with business tycoon Lord Karan Bilimoria
22nd Feb 7pm Taj with celebrity comedy artist, theater star, singer, author, producer actor, one of UK's most well known Indian personalities- Meera Syal, CBE.
grovericha@gmail.com